Michigan Boat Transport
Do you need to move your boat within, to, or from Michigan? Hauling and delivering a boat from one part of the country to another — short-distance, long-distance, or perhaps even across state lines — is both difficult and inconvenient. Boat owners who need to trust that their boat will be transported safely, and who need the process to be reliable and stress-free, choose an established professional boat hauling company precisely to avoid the challenges that they might otherwise encounter.
A1A Boat Transport is a great fit for your boat transporting needs to, from, or in Michigan, whether you own a high-performance boat or a yacht — because we are committed to moving your boat professionally, safely, and quickly. For boat owners looking for a highly-qualified boat shipping service in Michigan, here's why you can trust A1A Boat Transport.
Licensed and Insured Michigan Boat Shipping
In working with A1A Boat Transport, you choose a boat hauling company that is fully licensed and insured — but you also reap the benefits of the many years of experience our professional boat hauling team has under their belts. Because we have been in the field for a long time, we have optimized the process to be as efficient as possible. The safety checklist A1A Boat Transport has in place ensures that we do not make mistakes.
Our clients know that their boat is safe when we haul it from, to, or within Michigan because we are the best in the industry.
Well-Kept Transport Vehicles
Our dedication to providing the best boat hauling service in Michigan is proven by the fact that we only use high-end equipment that was thoroughly tested and recommended by experts in the field. Before we haul your boat to its destination, we carry out in-depth safety inspections to ensure that your boat will arrive safely, as planned. Whether you own a high-performance boat, yacht, or catamaran, this is crucial.
Quick Boat Transport
What are your main requirements when you are choosing a boat transportation company to move your boat to, from, or in Michigan? It goes without saying that you want your boat to be transported safely, professionally, and using high-end equipment. It's also important to you that you get your boat onto the water as fast as possible, though, whether your destination is Lake Michigan or one of Michigan's other great lakes.
To make it happen, contact A1A Boat Transport today! We take pride in offering some of the fastest timelines in the industry, while always adhering to the strictest safety standards. Boat owners who partner with A1A Boat Transport can rest assured that their boats will arrive on time, as already agreed with the marina.
All Types of High-End Boats and Michigan Yacht Transport
A1A's skilled boat hauling team has extensive experience in safely and professionally hauling boats just like yours in Michigan. No matter what type of boat you own, and what of size, we take the time to ensure that your boat is transported with great care. The boats we can transport for you in, to, and from Michigan include:
Yachts
High-Performance Boats
Catamarans
Power Center Consoles
And more!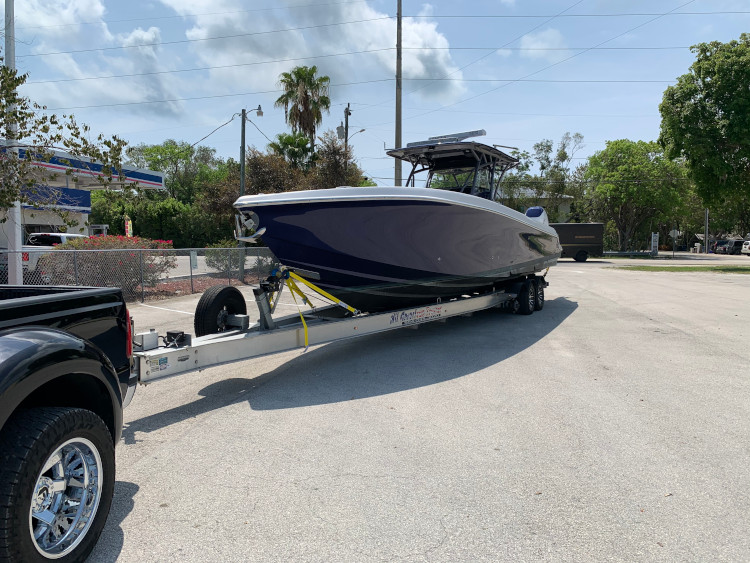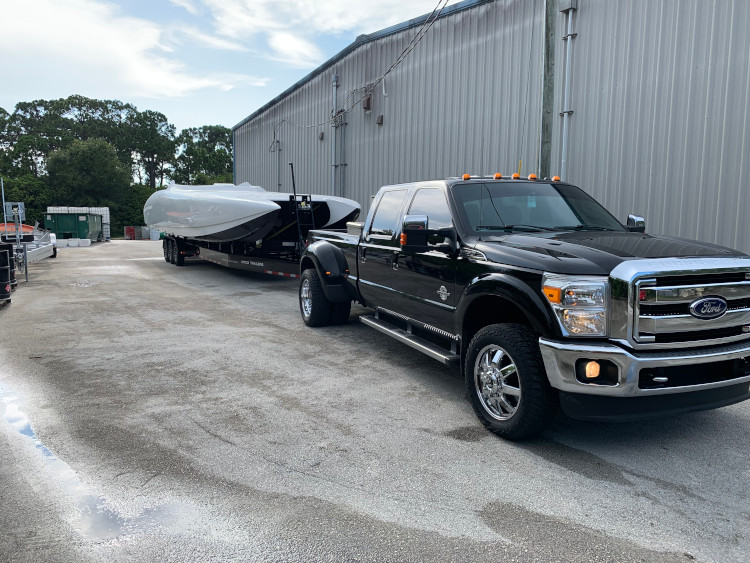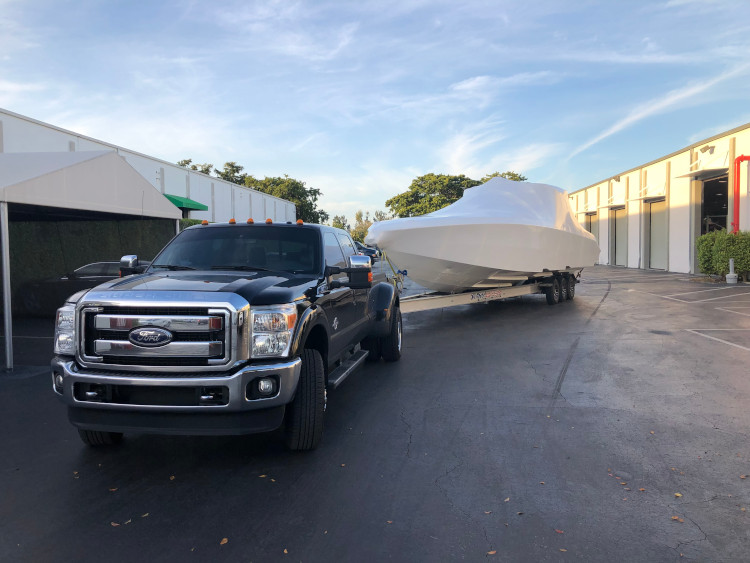 There is nothing like knowing that your boat shipping service is deeply familiar with your type of high-end boat, as we have successfully and safely transported boats just like yours countless times previously. Whether you need your yacht, catamaran, or other boat hauled and delivered short- or long-distance, A1A Boat Transport has you covered.
High Safety Standards
Alongside experience, high safety standards are the most crucial factor in ensuring that your boat is secured properly and transported carefully within Michigan. A1A is a safety-focused company that monitors your boat during every step of the transportation process. All the drivers in our fleet are skilled and competent. Their many years of service are accompanied by a thorough safety checklist that guarantees no oversights will ever occur, as well as by the best tools in the industry.
Should you have questions about the equipment, tools, and techniques we use at A1A Boat Transport, always feel free to ask during your initial quote! Our helpful team is happy to answer all your questions with pride.
Competitive Rates and Online Quote for Michigan Boat Transport
Do you need to have your boat transported professionally in, to, or from Michigan? It goes without saying that you only want to work with licensed and insured professionals who guarantee that your boat will arrive in great shape. You also, on the other hand, want to transport your boat affordably in Michigan!
A1A Boat Transport can proudly boast that we have competitive rates. When you can have your boat shipped safely and professionally for such affordable prices in Michigan, why would you risk damage by hauling your boat yourself?
To get your boat onto the water in no time, reach out to A1A Boat Transport now! Our qualified, professional, and deeply-experienced boat hauling team can meet your needs for a good deal. Discover what A1A Boat Transport can do for you by calling us at 855-432-3195 for an initial quote — and find out how we can customize the process to meet your needs.